"A visual metaphor is one image or set of images used in place of another to suggest an analogy between the two images or sets of images."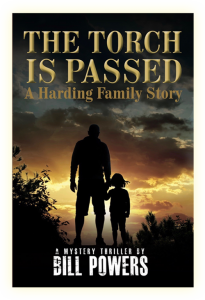 The essence of the story in The Torch is Passed is Andrea's relationship to her family, in particular to her father. However, Andrea is an adult, not a child in the story. The cover shows what could be perceived as a father holding his small daughter's hand – protecting her. Why did I choose this cover?
As the story opens, Andrea has just graduated college and is about to go out into the world,  suddenly her life is turned upside down when her father, Nicholas, and her uncle, Michael, are shot in a surprising and puzzling attack. As the only family other than her paternal grandmother, it falls to Andrea to not only investigate who would want to kill her father and uncle, but also to oversee Harding Industries. Andrea urgently seeks answers why anyone would want to kill her entire family– grows up along the way and seeks her revenge.
The cover is a visual metaphor for the story. The cover shows a father protecting his young daughter, but the story is actually about a daughter protecting her father and family and quickly growing up in the process.
Enjoy & Happy Writing!
Bill Powers                 https://authorbillpowers.com
"The Torch is Passed: A Harding Family Story" by Bill Powers
Now available in both print and ebook:
http://store.bookbaby.com/book/The-Torch-Is-Passed
Re-release of The Pharm House, debut suspense/thriller by Bill Powers –ebook $0.99