About Bill
Bill Powers is a suspense-thriller novelist from Mendham, New Jersey whose debut release novel was THE PHARM HOUSE. In this suspenseful thriller, Bill investigated the underworld of the international pharmaceutical industry, which included unscrupulous activities at the hands of corporate lieges traversing the planet and seducing young women while soliciting, marketing, manufacturing and selling legalized addiction under the guise of medicinal purpose. The scenes were seamy and torrid as well as realistic and matter of fact.
"How did I come up with the story and title for The Pharm House? My first attempt at writing a novel length story was during graduate school. It was science fiction, about half-finished and is beyond awful. I still keep it as a painful reminder. I waited several years and was ready to start another novel length story. You always hear "Write what you know". My choices were to write about something I was already knowledgeable about, or go off and do the research in order to become knowledgeable."
Bill worked in pharmaceutical Research and Development (Johnson & Johnson) for 26 years, rising to the position of Vice President of Global Preclinical Development. In various management roles, he led groups of scientists in the US, Europe and Asia; he administered multimillion dollar budgets and was instrumental in the successful development of several marketed pharmaceutical products. With a Ph.D. in Toxicology, Bill was a Diplomat of the American Board of Toxicology. He has published numerous abstracts, articles and book chapters on various topics in toxicology. And as a toxicologist, yes – he is a "poison doc".
"Working full time in the pharmaceutical industry, doing research on a new topic wasn't viable given the time required. That was when I decided to set my story inside a fictional pharmaceutical company – Marshall Pharmaceutical."
Several of todays pharmaceutical businesses started out as family concerns, in some cases family pharmacies, e.g., Merck, Pfizer, McNeil, etc. Some of these businesses were originally called the "House of…"
Big pharmaceutical companies are often referred to as Big Pharma. Using a play on words, Bill titled his book, The Pharm House.
Even though The Pharm House is set in a pharmaceutical company, it is really a story about family. It's about Nicholas Harding, a young scientist/executive at Marshall Pharmaceutical. Nicholas is a regular guy – a single Dad trying to raise a precocious 11-year-old daughter while clawing his way up that ever so slippery middle management ladder.
But unknown to Nicholas, there are dark forces inside Marshall Pharmaceutical and he is about to be drawn into their plans and finds himself fighting for his career, his family and perhaps even his life.
THE TORCH IS PASSED picks up with the Harding family about ten years after the end of THE PHARM HOUSE. In the sensational new thriller, The Torch is Passed, Andrea Harding has just graduated college and her world is turned upside down when her father, Nicholas Harding, and her uncle, Michael, are shot in a surprising and puzzling attack. As the only family other than her paternal grandmother, it falls to Andrea to not only investigate who would want to kill her father and uncle, but also to oversee Harding Industries.
The youngest Harding soon finds herself surrounded by a bevy of intriguing new friends and helpers after she is also violently attacked. Suspicion is cast on a short list of family friends and colleagues.
Along with her new allies, including an abrasive, but loyal, attorney and an eccentric southerner with more money than God and an intriguing background in international espionage, Andrea urgently seeks answers why anyone would want to kill her entire family— grows up along the way and seeks her revenge.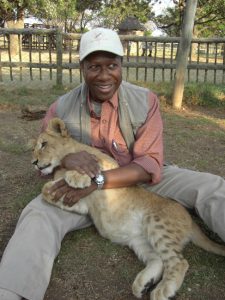 I admit it – I love cats! All cats… In 2009, my brother and I went to Johannesburg, South Africa and visited Lion Park – a preserve where lion cubs are raised and you can play with them.
One of the things I love about cats is that regardless of size, personality-wise, they're all pretty much the same – graceful, rather lazy, but playful predators. They enjoy the hunt and to be honest, they enjoy killing things. Cats, including house cats, are one of the few animals that kill for pleasure.
If you were suddenly shrunken to the size of a mouse and stumbled across your cute little kitty at home – the outcome at best you'd become a cat toy and torn to shreds and worst you'd be a snack!
Well, the cubs at Lion Park were incredible!
They were about 40 – 50 pounds and a 45 pound lion cub is essentially a giant kitten. If it's awake, it wants to play. And given their size, they can play rough.
They can't really hurt you, but they can push you around. I had a blast! I went to Lion Park three times in a week!
I also got to visit a cheetah preserve. These are also beautiful animals. As big cats go, cheetahs are "relatively" docile. I got to meet Brian – he was a major cutie and cheetahs purr. They're the only big cat that purrs…
So my brother and I had a blast in South Africa playing with the big kitties…
And of course, there is my "big kitty" – Octavian!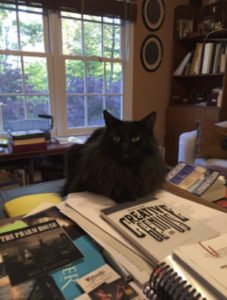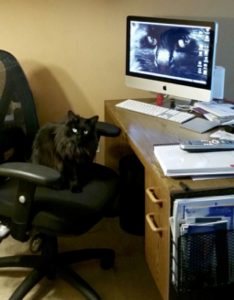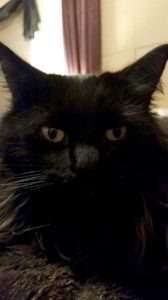 From the Blog
"Fill your house with stacks of books, in all the crannies and all the nooks." — Dr Seuss. Many people …