"Fill your house with stacks of books, in all the crannies and all the nooks." — Dr Seuss. Many people love books. They love reading stories, getting lost in the characters, transporting to a new world and relaxing with a nice book in their hands. For all the avid readers out there, bring your love of novels to your home by decorating your safe haven with them. Yes, books are for more than just reading. To learn how you can use books as decor items in your home, keep scrolling.
Use as Your Nightstand
A majority of the time, you may find yourself snuggled in bed with your nose in a new novel. Well, bring the books to your bed by creating a nightstand out of them. This decoration item looks pleasant and is functional (the best of both worlds). While making your book nightstand, you are going to want to collect sturdy books that are preferably around the same size or level out to the same size. Hardcover books work the best, especially if you plan on placing items on top like a lamp, your phone, other books or any other decoration piece. Once you have all the books, it is time to start making them.
Add on Your Bookshelf
One of the easiest and most common ways people decorate their houses with books is by adding them to a bookshelf. Most book lovers either buy hoses with built-in bookshelves or cases, or they buy one themselves. If you like to keep your decorations simple yet still want to show everyone your love for novels, then adding them to a bookshelf will be your best option. Go ahead and fill up your bookcases and shelves with all your favorite books. And if you do end up having an extensive library, check out this book on how to care for them: At Home with Books: How Booklovers Live with and Care for Their Libraries by Estelle Ellis, Caroline Seebohm and Christopher Simon Sykes.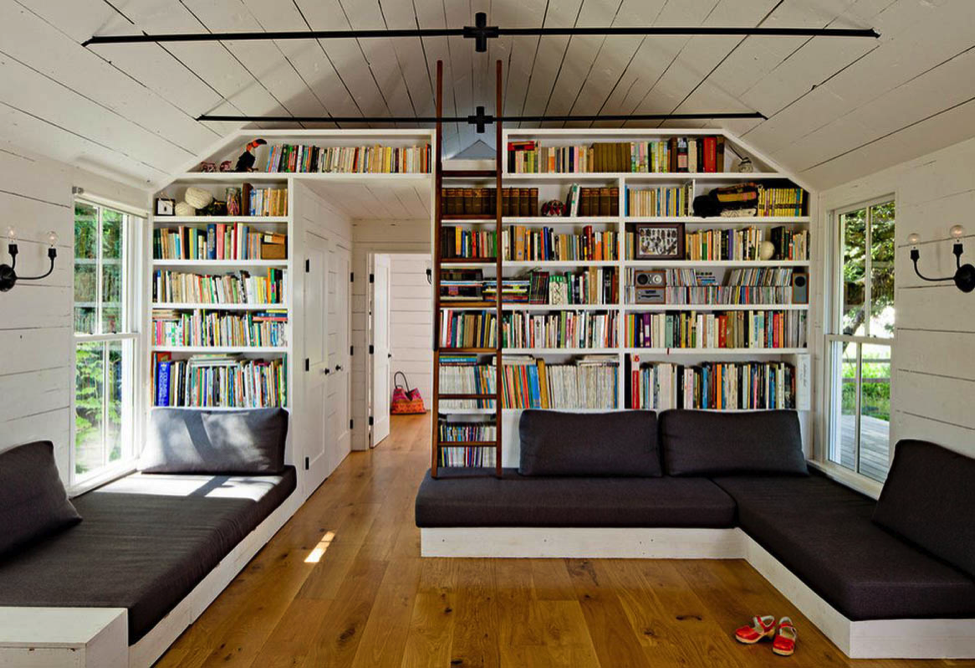 Place on Coffee Tables
Instead of magazines on a coffee table to entertain people (or yourself), place a few novels on top. This is a great way for others to start reading a new book or even a great icebreaker if you have someone new coming over. You can even rotate the books out, so you always have something new for people to read. Any book is great for coffee tables, but try to have at least two or three different genres out.
Create Seasonal Decor
Books make great seasonal decor. There are loads of books out there for each holiday that you can use as decor. You can also incorporate the books into your holiday displays or use the books to create something completely different and unique. If you do want to do this, make sure you start collecting books or books that go along with the holiday's colors. For example, if you love Christmas, you will want to gather Christmas books or books that are red, green, silver or gold. A really fun and interesting way to use novels as Christmas decorations is to make a Christmas tree artwork out of them. The more creative you are with your books, the more cool the piece will be.
Make a Headboard
Another unique bedroom idea is to make a headboard out of books. There are many different ways you can make your headboard. You can open the book to the pages, showcase the outside of the book, stack them to create a board and so much more. For this option, make sure you research how to place books together and keep them stable. You do not want your headboard to come crashing down on you while you sleep. Once you plan how you are going to create it, go out and get all the supplies. While you can do this on your own, it will be easier and work better if you work with someone who has woodworking or crafting experience. Commissioning a handyman or sculpture to work with you may work in your favor as well.
Create a Playhouse
For all the young readers out there, you can add on to their room or playroom by creating a playhouse out of books. This decoration or furniture piece does involve some architectural skills, especially since you want it to be fun yet safe for your little one. Do not attempt this option without knowing that you can make it safe for any child. But if you do think or know that you can, you first need to start by designing the layout of the house and collecting a ton of children's books. When we say a ton, we mean possibly over 100 books, depending on how big you want the playhouse to be. The best way to find all these books is to ask around for some or buy them from garage sales, used book stores or thrift stores. This project is a little pricey, but the outcome is absolutely magical.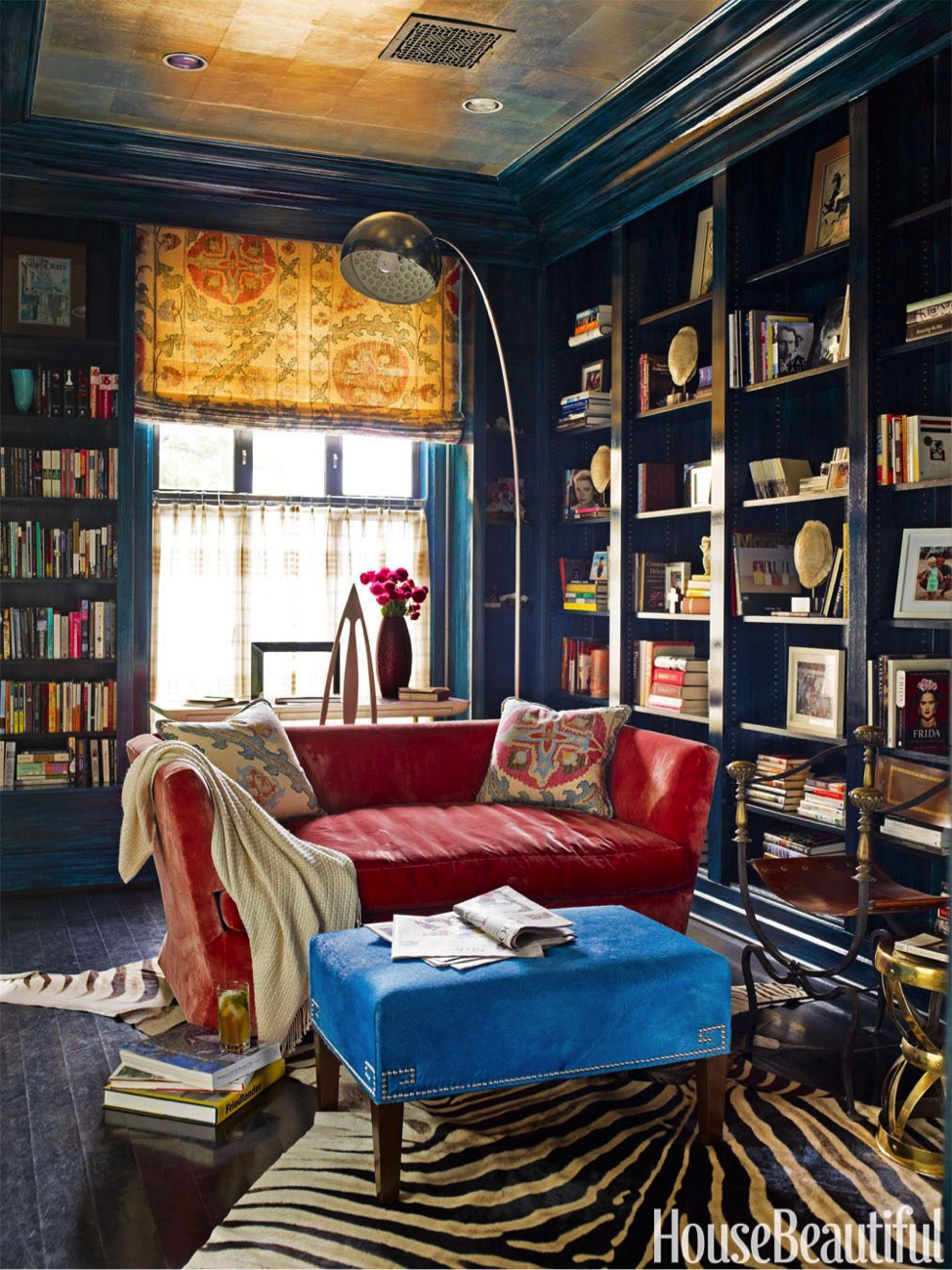 Place them in Unexpected Places
Who does not like finding books in unexpected places? That is why while you are decorating your home, place a few novels in areas that you never thought they would be. This decoration option is essentially filling all the nooks and crannies of your home. From an empty cabinet to an empty spot in your bathroom, make sure to add a book or two to the area. Plus, if you are into scavenger hunts, this is the perfect idea for you. For more inspiration on how to live your life with books while decorating, check out this book: Living with Books by Alan Powers.
Make a Wall Sculpture
If you are an artistic or crafty person, you can grab some books and make a one-of-a-kind wall sculpture. You can make any sculpture you want. It can be a picture, a word, a scene or even something abstract. This option is literally up to you and what you feel like making. If you decide to work on this project, make sure you have all the supplies needed to complete the task. You will also want to plan and design before starting. Books are sometimes hard to work with, especially hardcover books because they are not flexible. If you want help, try working or interviewing with a professional sculpture. They will know the ins and outs of creating any piece. Once it is complete, your book sculpture will be the talk of your house.
Place Collections Together
Many books come in collections or series. Keep the group together by grouping them in one place. You can do this on bookcases or shelves, in baskets, on trays, on tables or anywhere else you find appropriate. If it is your favorite collection of novels, you can place them in frames or shadow boxes. If you do decide to frame them, make sure to measure the novel's height, width and depth. You are going to want to find frames that fit them perfectly. The best way to do this is to measure them yourself or go to a professional framing service to get it done.
Pair with Flowers
Books and flowers go hand in hand. So why not try decorating your home with the two together. There are many different ways you can pair novels and books together. You can place a vase of flowers on top of stacked books, place flowers inside open books or even place them together on a table or tray. The possibilities are endless. You can even place multiple styles of flowers and books throughout your home. This combination adds a sense of elegance and poise to your house.
Create Shelving Out of Books
A very unique decoration you can make out of novels is to make floating shelves. You can pick a theme of books or even your favorite books to create these shelves. You want to pick sturdy, thick and hardcover novels because they will need to be strong enough to withstand anything you add on top and to stay up. Once you pick out your books, you will need to learn how to screw the books into your wall. This option is a great talking point or statement piece for any guests that come over.
Make a Reading Station
If you have a lot of space in your home and a ton of books, then you should consider creating a reading station in your home. You can then decorate this area full of all the novels you own. If you have even more books, you can even create furniture out of all your novels. From table legs, side tables and light stands, there is a load of furniture with books. Once it is complete, it is the perfect place for you to relax and read your books to your heart's content.
These were just some of the ways you can decorate your home with books. When it comes to books and creativity, the possibilities are endless for decorations. And if you want more inspiration on how to accomplish this task, check out this book: House Beautiful: Decorating with Books by Marie Proeller Hueston.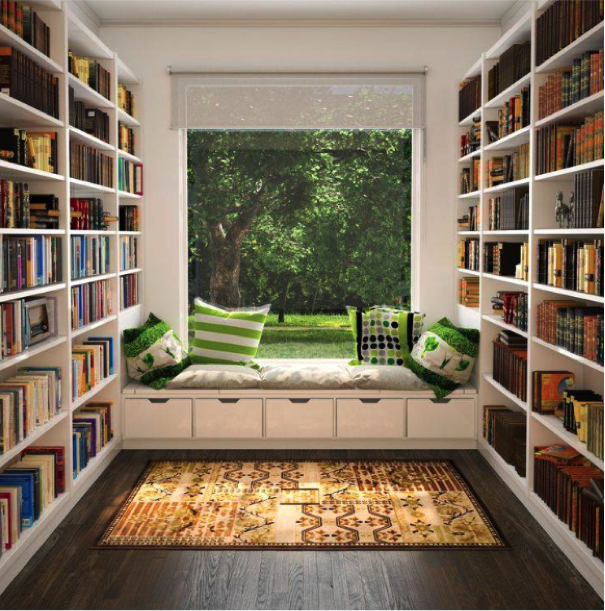 Please see part one of this series