While The Pharm House was a long labor of love to get published, I decided to take the Independent Publishing route this time, which is much faster (and under my control) for the second of the Harding Family stories – The Torch is Passed.
About ten years have gone by between The Pharm House and The Torch is Passed. Don Marshall is CEO of Marshall Pharmaceuticals and married to Karen Stemmer. Nicholas Harding and his brother Michael now run their mid-sized family business, Harding Industries, which invests in real estate deals and other financial opportunities. Andrea has completed her undergraduate studies at Princeton, getting a degree in Economics and has been accepted at Duke Law School.
I had the opportunity to attend an all-day Steve Berry History Matters Craft of Writing class. Steve is a best-selling thriller writer and he incorporates historical reality into his fictional stories. He doesn't take any fees for his class and donates all funds raised to History Matters (http://history-matters.org). He is a master of the structure of a modern day thriller and teaches classes to aspiring thriller writers. It was an incredible experience to meet Steve and attend his class.
I'll tell you more about some of the things I learned at Steve's class, but one of the things I learned was to start your story as close to the end as possible. Don't waste the reader's time with too much background. You can always find ways to add that later. With that in mind, I threw out the first five chapters I had written and started where the story now picks up with Andrea learning that her father and uncle have been shot and are in critical condition.
Next time, I'll tell you how I created the cover for The Torch is Passed.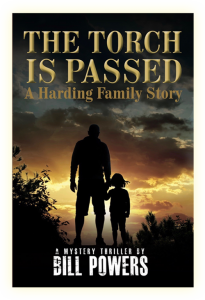 "The Torch is Passed: A Harding Family Story" by Bill Powers
Now available in both print and ebook:
http://store.bookbaby.com/book/The-Torch-Is-Passed 
And, Re-release of The Pharm House, debut suspense/thriller by Bill Powers –ebook $0.99

http://my.bookbaby.com/book/the-pharm-house  or Amazon