After four days seeing the sights of Moscow (in the cold drizzle), the Viking Ingvar cast off. We were to spend the next four days cruising up the Volga River and through various lakes and smaller tributaries and canal locks. Each day we stopped in one of the small towns along the river, such as Uglich.
The big cities of Russia, e.g., Moscow are essentially like any other big metropolitan city.  If you were dropped off in the city of Moscow and could not see the Kremlin, you would be hard pressed to know what city you were in. But the daily stops along the river gave us a chance to contrast rural Russian life with metropolitan Russian life. In Uglich, we broke into small groups of maybe 10 passengers and a guide and then we were taken to the home of a host in the town for a meal. We were able to see how rural Russians live.
We were served a light Russian lunch of fresh and pickled vegetables, bread and a Russian "moonshine" – a homemade, strong adult beverage, emphasis on strong. In the picture below, the two large flasks on the table are the moonshine. There three toasts (lots of toasts in Russia) with three shots of moonshine. Fortunately, I poured three small shots.
Host family in Uglich.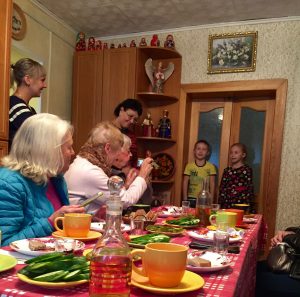 Most of our cruising was done in the evenings or at night. The Volga River does not run directly from Moscow to Saint Petersburg and before the 1930s, there was no direct waterway from Moscow to Saint Petersburg. By linking the Volga with several large lakes and smaller rivers, the Stalin government created a waterway between Moscow and Saint Petersburg. Unfortunately several small towns were in the way and were flooded to create the waterway.
In the photo below, you see the Kalyazin Bell Tower over the waters of the Uglich Reservoir on the Volga. The surrounding town was flooded and the 244 ft tower remains above the waters. When Stalin ordered the construction of the Uglich Dam in 1939 to form the Reservoir, several medieval structures were submerged under the reservoir's waters.
We saw several similar structures during our four-day waterway cruise; towns now underwater with only tall church steeples remaining to mark their location.
Kalyazin Bell Tower