Speaking of Toxicologist (as in Nicholas Harding in The Pharm House), any aficionados of The Borgias out there? As a toxicologist, of course I knew who the Borgias were – early adaptors to the art of toxicology. Lucrezia and Cesare and their daddy Pope Alexander VI (Rodrigo); one would want to be most careful when invited to dine at the Borgia manor. Lucrezia was rumored to be a notorious poisoner (toxicologist) and master of political intrigue; a strong independent woman no doubt.
I missed the first season of The Borgias, but stumbled across it On Demand, couldn't get enough and was completely hooked. I mean really, what's not to love about that family!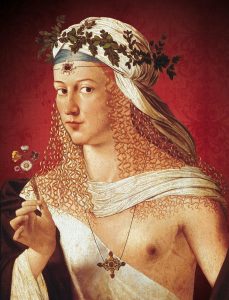 Lucrezia was born on April 18, 1480 near Rome. Her mother was Vannozza dei Cattanei, one of the mistresses of her father, Cardinal Rodrigo de Borgia (later Pope Alexander VI). At one time, she reigned as the Governor of Spoleto, a position usually held by cardinals of the Roman Catholic Church.
She married three times, her family arranging marriages for her that advanced their own political positions.
Numerous rumors have persisted throughout the years of extravagant parties thrown by the Borgia family with allegations of incest, poisoning and murder on the part of Lucrezia.
It was whispered that she was in possession of a hollow ring that she used frequently to poison drinks.
After a long history of complicated pregnancies and miscarriages, on June 14, 1519, Lucrezia gave birth to her tenth child. She had become very weak during the pregnancy, fell seriously ill after the birth and died on June 24, 1519 at the age of 39.
Cesare was Lucrezia's older brother. He was groomed for a career in the Roman Catholic Church from an early age. Both his great-uncle, Alphonso Borgia and Rodrigo Borgia served as Pope. Cesare was made Cardinal of the Church at the age of 18. Of course, his birth records needed a little modification, since he was the illegitimate son of Cardinal Rodrigo and his mistress, Vannozza dei Cattanei.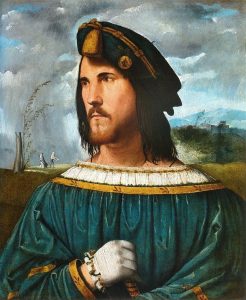 Cesare eventually resigned as Cardinal and was appointed commander of the papal armies and ruler of his own state in northern Italy.
Leonardo da Vinci was briefly employed by Cesare as a military architect and engineer, between 1502 and 1503.
Upon the death of his father, Pope Alexander VI in 1503, Cesare's power began to fade. In 1507, he was attacked by an enemy party of knights; trapped in an ambush where he received a fatal wound from a spear and died shortly after.
The Church fought over where to bury Cesare's remains with the final resolution coming in 2007, 500 years after his death, when his remains were moved back into the Church of Santa María in Viana.
Enough, about the Borgias. But aren't you a bit curious about what the toxicologists in The Pharm House are up to?