THE TORCH IS PASSED: A HARDING FAMILY STORY – BLOG TOUR!
My publicists, Rachel & Michela have lined up an incredible weeklong Blog Tour for The Torch is Passed           July 11 – July 18th 2016         Come Check It Out!
Monday July 11, 2016 Lori's Reading Corner with Lori Gondelman http://www.lorisreadingcorner.com/              Guest Post + Special Giveaway!
Tuesday July 12, 2016 Big Reader's Site with Virginia Winfield https://bigreadersite.wordpress.com/            Review!
Wednesday July 13, 2016 Addicted to Reviews with Angel Rackard https://addictedtoreviews.wordpress.com/ Excerpt & Author Interview!
Thursday July 14, 2016 Go Book Yourself with Amanda Horan http://www.gobookyourself.info/                    Guest Post!
Friday July 15, 2016 Author Jeff Wells with Jeff Wells http://authorjaywhales.wix.com/mid-western-stories                         Review & Guest Post!
Friday July 15, 2016 Zee Mondee Blog with Zee Mondee http://www.zeemonodee.com/p/welcome.html           Review!
Saturday July 16, 2016 Postcard Reviews with Tracy Shepard https://tracyshephard.wordpress.com/                      Review!
Sunday July 17, 2016 Girl Who Reads with Susan Roberts http://www.girl-who-reads.com/                                 Q&A!
Monday July 18, 2016 Cupcakes and Books with Heather Stanley http://cupcakesbooks.blogspot.com/                                     Excerpt & Synopsis!
MAKE SURE YOU STOP BY ONE OR MORE OF THE BLOGS DURING MY TOUR – AND ENJOY!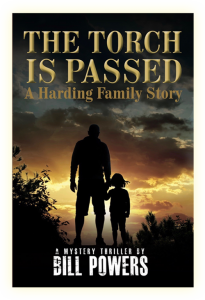 About Bill:
Bill Powers worked in pharmaceutical Research & Development (Johnson & Johnson) for 26 years, rising to the position of Vice President of Global Preclinical Development. Bill has a Ph.D. in Toxicology from the University of Cincinnati and is a Diplomate of the American Board of Toxicology.
Bill's love of words and books started in childhood, stimulated by parents who were both teachers. A voracious reader, he enjoys both fiction and biographies. Now that he has moved away from his industrial career, he plans to aggressively pursue his passion of being a fictional author. Bill's first novel, The Pharm House: A Harding Family Story, was named a Finalist in the Medical Thriller category of the 2014 National Indie Excellence Awards. Bill's second novel, The Torch is Passed: A Harding Family Story, was named Best Book in the Category of Thriller of the Pinnacle Book Achievement Award for Winter 2016
Connect with Bill Powers on Facebook, Twitter, LinkedIn, Goodreads and at www.authorbillpowers.com
The Torch is Passed is available in both paperback and e-book formats via Amazon and Barnes and Noble