My family and I usually attend a half-dozen or so performance of the New York Philharmonic at Avery Fisher Hall, Lincoln Center (soon to be renamed David Geffen Hall) each year, so I am constantly on the lookout for interesting performances.
Well, last February, I was perusing the NY Times Arts section and what did I see? That as part of their The Art of the Score Film Week at the Philharmonic, the NYPhil would be performing The Godfather on the big screen with the orchestra performing the score live with Justin Freer conducting. I immediately jumped online and purchased tickets. Of course, I lied and told my daughter it was sold out, before I told her the truth. She and I are both obsessed, no very obsessed, with The Godfather. My wife humors us.
We had tickets for Saturday September 19, 2015. For the seven months between February and September,not a week went by that we did gleefully talk about going to see The Godfather on the big screen with a full symphony orchestra, but of course, we watched the movie at home several times. I have long lost count of the number of times I have seen the movie; it must be in the hundreds.
The original score was written by Nino Rota. Over his career, he produced over 150 film scores including The Godfather "Part I" and "Part II". The score for "Part III" was assembled posthumously from his extant music.
When the project to perform The Godfather at Lincoln Center began Freer and his team discovered that much of the original sheet music of the score heard in the movie was lost and not archived. This required Freer and his crew to have to "re-interpret" Nino Rota's music and re-build the score with transcription and taking down musical lines from the film itself. It also takes sophisticated editing to retain the dialogue from the original soundtrack while cutting out the orchestral music that often plays in the background, so the orchestra can perform it on stage.
Freer and his orchestra did an outstanding job in re-interpreting and performing the score to The Godfather.
Saturday the 19th came and my daughter and I were like kids on Christmas Eve. The performance did not disappoint and we loved every second of it. We are hoping they continue The Art of the Score and soon perform The Godfather Part II. If they do we will be there!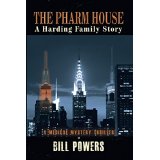 Visit my website at http://www.authorbillpowers.com
The re-release of The Pharm House is now available
http://my.bookbaby.com/book/the-pharm-house
http://www.amazon.com/Pharm-House-Harding-Family-Story/dp/1682220621/ref=sr_1_1?ie=UTF8&qid=1442935392&sr=8-1&keywords=the+pharm+house
Soon followed by the sequel, The Torch is Passed in November 2015.