We only have a couple of more days in St. Petersburg. As a young boy, I started reading Russian history and fell in love with the city of St. Petersburg. I read of the last Tsar Nicholas II and the Tsarina Alexandra and their children the Grand Duchesses Olga, Maria, Tatiana, Anastasia and the Tsarevich Alexi and their fate after the Bolshevik revolution. Now, I was to see where much of this history had occurred.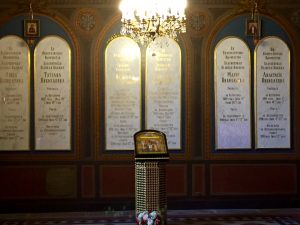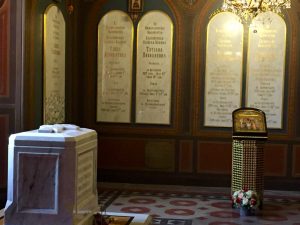 Above:  The Peter and Paul Cathedral located inside the Peter and Paul Fortress in St. Petersburg, Russia is the first and oldest landmark in St. Petersburg, built 1712 and 1733 by Peter the Great. The cathedral houses the remains of almost all Russian emperors and empresses including those of Nicholas II and his family. The above photos show the tombs of Nicholas II, his wife and children.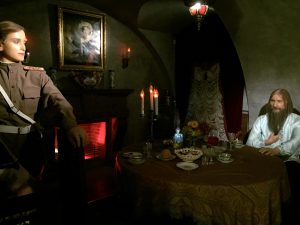 If you are familiar with your Russian history, you may have heard of Felix Yusupov and his role in killing Rasputin.
The Yusupov family was said to be as wealthy as the Tsar. We visited the St. Petersburg Yusupov palace  (and the term palace is an understatement in this case), where Felix is alleged to have killed Rasputin. The St. Petersburg Yusupov palace was only one of 57 such palaces that the family owned.
The above photo is a scene that has been setup in the palace basement to reenact the events of Rasputin's death.

The Catherine Palace in Pushkin – outside St. Petersburg – The Summer Palace at Tsarskoe Selo.
The Amber Room, created in 1701, was inside the Catherine Palace. It was looted and lost during World War II, but has since been recreated. Unfortunately photos are not allowed.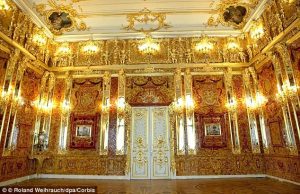 This is what the recreated Amber Room looks like today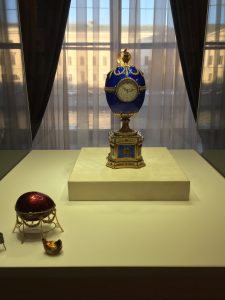 Next a quick stop at the Fabergé Museum – Eggs anyone?
I have always wanted to visit St. Petersburg in the snow. It is said to resemble a "fairy-tale city". On our last night, coming back to the hotel, it snowed! Not enough to stick, but I did get to see "snow in St. Petersburg" and make a dream come true!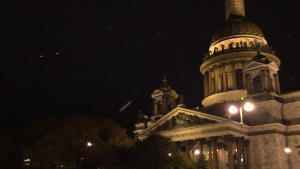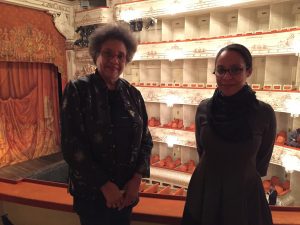 Our journey was coming to an end, but WOW! A Trip of A Lifetime! Our last dinner in St. Petersburg was in a restaurant across the street from St. Isaac's Cathedral, which you see illuminated in the background.
My daughter, in her Fox shirt, making one last toast to Russia!